A leopard did not notice the "setup" in the dark and fell into the well. A family of monkeys was able to save him. Accidental witnesses to the predator's misfortune rushed to his aid.
It is surprising that the most common kindness became an excuse to help his fellow. Although, not so often we can see how herbivores rescue predators. Cases in the situation, on the contrary, have already met, but here is a whole surprise.
A family of monkeys managed to save the leopard quite simply. After the incident, they surrounded the well and began to shout loudly, which caused the outrage of people, who soon came to the aid of the animal.
In the early morning, alarmed residents responded to the "call" of the monkeys. It was very difficult to get the leopard out because the well was too deep, however, it was possible to do this using a long ladder.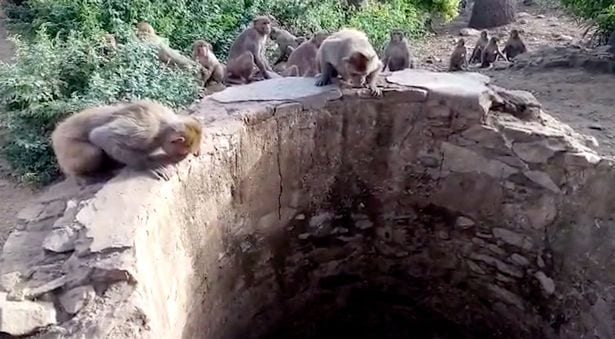 The leopard was very scared, so as soon as he was "above", he quickly ran away into the jungle.
The amazing animal world every day gives people a reason to be convinced of their intelligence. Even an ordinary domestic cat sometimes seems to us very logical and reasonable in its actions.
In the video below, let's watch and study the story of the poor leopard and the family of monkeys rescuing him.
Such shots very rarely come across by accident, so it is extremely interesting to watch them!