Circus animals always have sad stories. They are being abused and it seems they is no end to their sufferings.
This story is about two elephants that meet in a circus very long time ago. They were born in the wilds but had to live under the control of human beings.
At the time they first met, Shirley was 20 years old, Jenny was a baby. So Shirley was taking care of Jenny as a mom.
Unfortunately, they were separated and forced to a life they didn't deserve.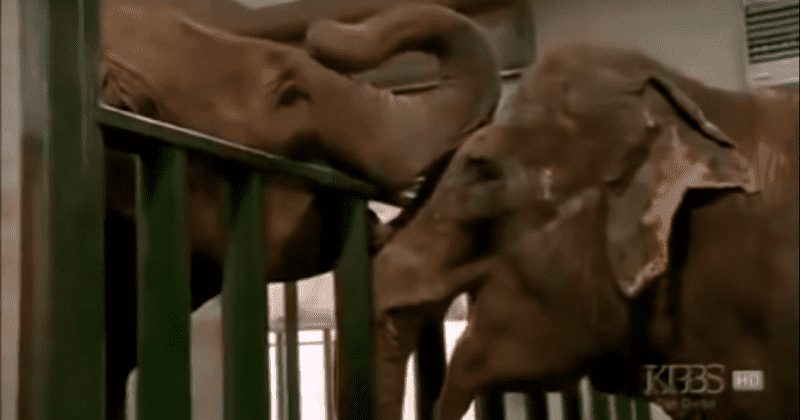 Years passed, Jenny didn't want to continue the miserable life of a circus animal. She wasn't listening to her trainers and started running away during circus performances.
Her owners decided to took her away for breeding purposes. On the way to the breeding organization she was deeply injured.
When she was announced as 'useless", she was eventually taken back to the circus where she suffered 2 more years before being allowed to retire at an elephant sanctuary in 1996.
With a body full of scars and injuries the poor animal could live her remained years of life in peace.
But the story doesn't end here. About three years later an elephant was brought to the sanctuary which seemed familiar to Jenny. The later was anxious to see the new elephant.
Soon it was clear that the newcomer was Shirley. That's why Jenny was worried – she saw her adoptive mom for the first time in more than 20 years.
Finally, they could enjoy themselves in the sanctuary with other elephants.
Shirley was in a bad condition. She lost her one ear in the result of fire caught at the circus. Also, in a highway accident two elephants passed away and only Shirley could survive, receiving serious injuries. Only now, whe she was absolutely useless, the circus owners neglected her.
After some time Jenny passed away. A big mourn was seen in the eyes of Shirley as she lost her daughter. She went to the forest and didn't eat anything for two days.
Not a very long time ago, in Fabruary 22, 2021 Shirley died at the age of 72. She lived a long life full of sufferings but also joy of finding Jenny. She is the second oldest elephant in North America.
From this story we can study that animals has feelings that would be respected.