Researches have shown, that friendships may have a crucial impact on our mental and physical health.
So, all of us should make friends and love them with all our hearts. This is also true for animals.
This touching story will melt your heart, with its cute and innocent hero.
Meet Doodlebug, this orphan kangaroo baby who live in the region of Northern Rivers, Australia.
Gillian Abbott, who is a wildlife lover and protector, fosters him.
The woman with her son, named Tim Beshara, cherish and take care of the sweet baby from the first days of his life: because they found the orphaned kangaroo alone and helpless in the nature.
Doodlebug is a typical Eastern gray kangaroo. No matter, what is his specie type, he went viral, and stole everyone's heart, after the fosters share his touching photo.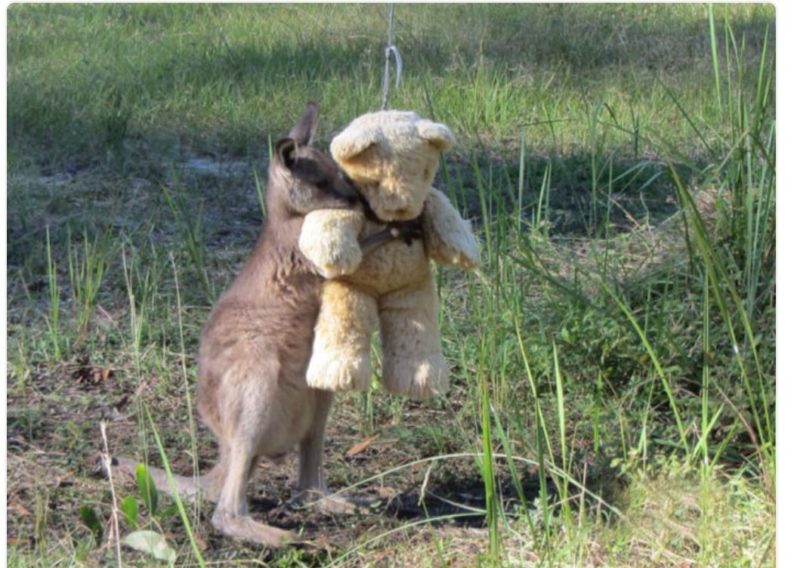 He found and carried a teddy-bear hugging and cuddling it as if it was his own sibling or friend.
When Bashara gave an interview to the Daily Mail, she said, that the poor creature might lack of motherly love and warmth much, as his mom had passed away when he was born.
Though, the sweet kangaroo now is grown enough to return to the wild, he will not be able to face the challenges and threats of the wild nature.
He is like child, who need a constant love and care. He treats toys as kids do: it seems like toys are his companions.
For that reason, Doodlebug is still kept into their organization, until he will be ready for living in the wild world.